When Julia Zemiro introduces All Together Now by declaring, "This is a new kind of singing show", it's more than scripted banter. Channel Seven's new reality series is focused on the inclusive joy of singing, rather than the competition to be a star. The key judging criteria is whether a contestant can get the judges to stand up and sing along with them. There are no mentors or record deals. The prevailing mood is the opposite of so much television in 2018: it's sweet.
"The tide has to start turning," says Zemiro, the long-time host of SBS's RocKwiz. "I will never understand why people watch the Housewives shows and the Bachelor shows, where bad behaviour is rewarded again and again. We wouldn't reward that behaviour in children but we choose to watch it on TV. I know people say it is a guilty pleasure but I don't get it."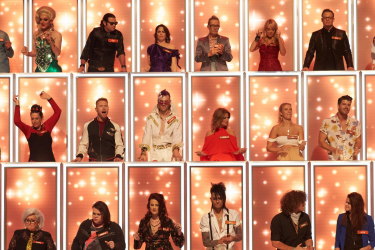 The judges on All Together Now dance and sing when a contestant inspires them.
Based on a British show of the same name that concluded its successful first season in March, All Together Now is an antidote to where reality singing competitions find themselves after 15 years of Australian Idol, The Voice and The X Factor. It's uncomplicated and open to most. In the first episode one eccentric hopeful, Jared, belts out the Rogers and Hammerstein show tune Oklahoma. No-one mocks him or his enthusiasm for a steadfast musical.
"This is a music show where you don't have to be perfect, you don't have to be someone who can sell records at the end of it," says Lara Hopkins, executive producer of All Together Now. "Lots of people don't have the perfect image, but they can still perform and they can have a great voice. We've got kids and a 62-year-old busker and they share a joy of singing, not a target demo."
Each contestant performs to the 100, a vast panel of vocalists – captained by Irish boy band graduate and veteran singing show judge Ronan Keating – whose ranks include rappers, 1980s rockers, cabaret performers, gospel singers, country crooners and drag queens. Each one that stands up to join in during the singer's 90-second performance earns a point, with the top two scores earning a spot in the episode's concluding sing off.
The 100 are housed on a vast grid-like structure that is approximately six stories high; the show nearly scrapes the roof in a soundstage at Fox Studio in Sydney that Baz Luhrmann used for Moulin Rouge. To get reactions from the judges, Zemiro had to race up and down scaffolding and steps to traverse each row – before each sequence she would slip off her heels and put on trainers to protect against tripping.
Zemiro says that she lost half a dress size from the exercise required to shoot the season's eight episodes and it's notable how prominent she is during the show. Some reality hosts merely top and tail segments but Zemiro offers commentary during the song and then engages with and enhances the eclectic personalities of the 100. Her creative DNA is threaded through the All Together Now philosophy.
"Julia was the perfect person to get for this show because it's all about the humour and the warmth," Hopkins says. "People who haven't seen her other shows will really enjoy watching her because she's just funny and can react to everything that's going on."
A former member of the Bell Shakespeare Company and an improvisational comic, Zemiro has appeared repeatedly on every main free to air network in Australia but she's only ever hosted on SBS (RocKwiz) and the ABC (Julia Zemiro's Home Delivery). Earlier this year Zemiro felt she wanted to work outside her comfort zone, so she agreed to front All Together Now and be artistic director of the Adelaide Cabaret Festival. She regrets neither.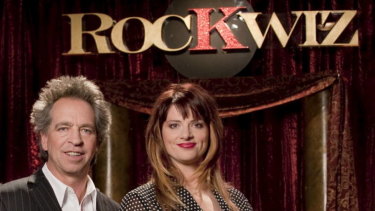 Brian Nankervis and Julia Zemiro starred in SBS music show, RockWiz.
"I got a really good vibe from [production house] Endemol Shine. They were saying, 'We want you to do you, we don't want you to change', and that's how it panned out," Zemiro says. "I don't take on jobs lightly and I knew it would be a lot of work but I knew it was a zone where I could shine and hopefully make other people shine."
According to Hopkins, keeping the 100 motivated and involved was one of Zemiro's key responsibilities. To avoid fractious comparisons, all 99 of them – the high profile Keating is a headliner alongside Zemiro – were hired on a blanket rate and did their own hair and make-up before the show's team applied touch-ups. They're more enthusiastic experts than doubting gatekeepers, which sums up All Together Now's angle for winning over viewers.
"Maybe we can get back to making telly that's a little kinder," Zemiro says. "We wanted to be a family show as well, for older people and kids. You can't afford to use young jargon and be bitchy and have swearing. That's a genre, I get that, but it's not this show."
WHAT All Together Now
WHEN Sunday, 7pm, Seven
October 4, 2018 www.smh.com.au